Flaconi Advent Calendars 2022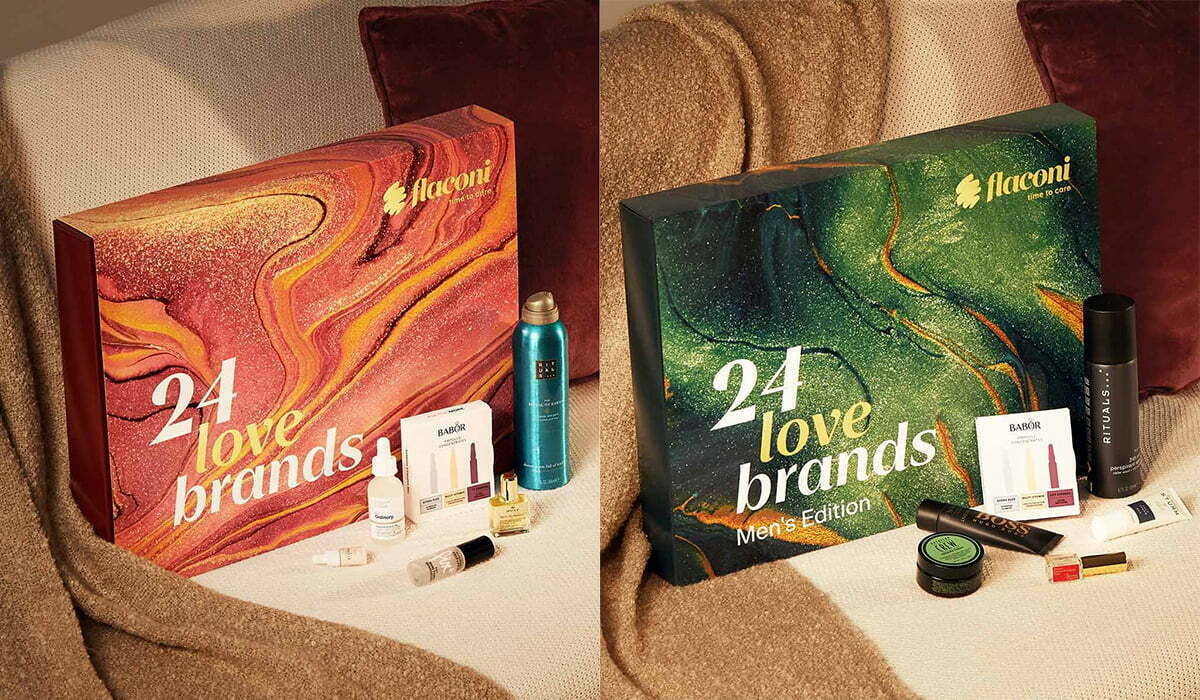 Flaconi has released two new Flaconi Advent Calendars 2022.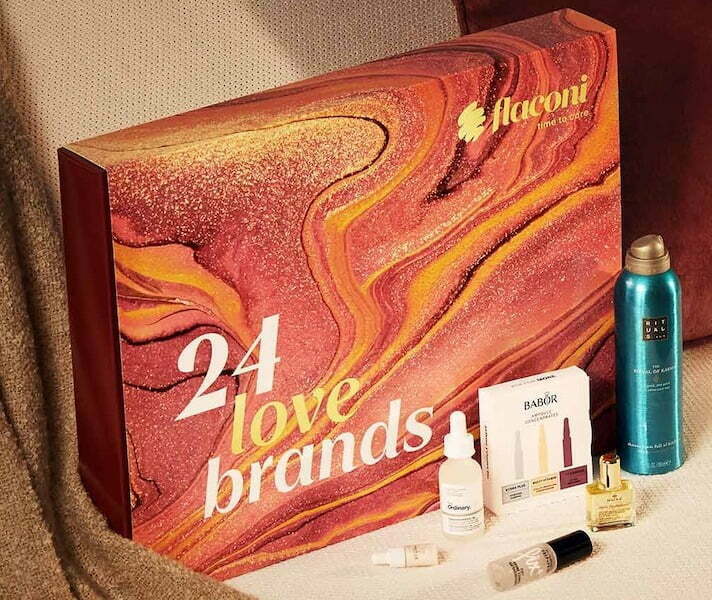 Flaconi 24 Love Brands Advent Calendar 2022 (worth €270,00). Priced at €79,99.
What's inside:
AHAVA 24K Gold Mineral Mud Mask 15ml Travel Size
Alessandro Nail Polish No. 176, 920 or 934 5 ml, travel size
ANNEMARIE BÖRLIND For Lips lip balm 4.8 g, original size
ARTDECO Perfect Color Lipstick No. 435, 457, 458, 718, 720, 749, 770 or 770 4 g, original size
BABOR Ampoule Concentrates Face Serum 3x 2 ml, travel size
CLINIQUE Moisture Surge™ 100-Hour Auto-Replenishing Hydrator 15mL Travel Size
Comodynes Self-Tanning Cloth 1 pc
DR. BARBARA STURM Glow Drops 3ml
GROWN ALCHEMIST Surprise Hand Cream Vanilla, Orange Peel 20ml or Matte Balancing Moisturiser: Açaí
Berry, Borago 12ml, travel size
John Frieda Frizz Ease Miracle Repair Hair Shampoo and Conditioner 2x 50ml, travel size
Juliette has a Gun Not a Perfume Eau de Perfum 5ml Travel Size
L'Occitane Shea Butter Hand Cream 10ml, travel size
MAC Prep+Prime Fix+ Fixing Spray 13ml Travel Size
MDO Skin Rescue Sheet Mask 1pc, original size
Murad Hydration AHA/BHA Exfoliating Cleanser 60ml Travel Size
NUXE Huile Prodigieuse® drying oil 10ml, travel size
OLAPLEX no. 3 Hair Perfector 30ml, travel size
Pixi Hydrating Milky Mist Facial Spray 30ml, travel size
Rituals The Ritual of Karma Shower Foam 200ml, Original Size
SLOWDAY Surprise – body lotion, shower gel, body oil, hand soap, lip & skin balm or body & pillow spray, original size
Starskin VIP THE GOLD MASK™ eye pads 1 pair, original size
SWEED Lash Lift Mascara – black 7.5 g, original size
The Ordinary Hyaluronic Acid 2% + B5 Face Serum 30ml, Original Size
Zoë Ayla Tortoise Comb Hair Comb 1pc, Full Size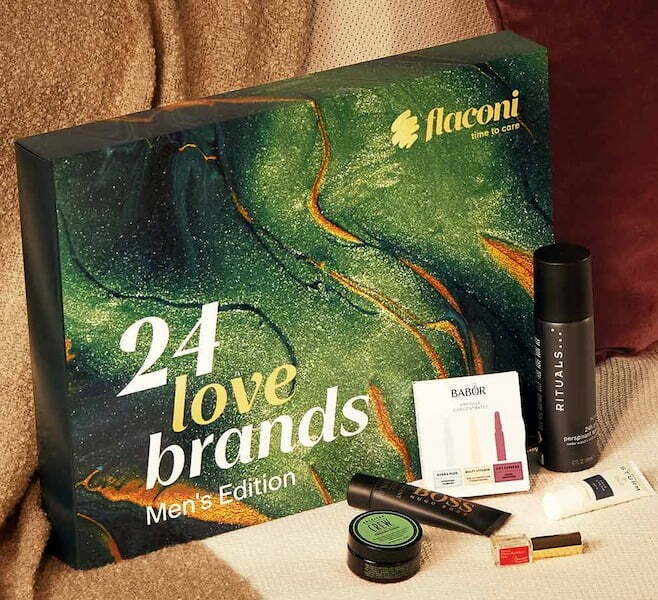 Flaconi 24 Love Brands Men's Edition (worth €390,0). Priced at €79,99.
What's inside:
American Crew Styling Forming Cream 50g, travel size
ANNEMARIE BÖRLIND For Lips lip balm 4.8 g, original size
BABOR Ampoule Concentrates Face Serum 3x 2 ml, travel size
DOCTOR BABOR Hyaluron Cream 15 ml, travel size
DR. BARBARA STURM Face Cream Men 20 ml, travel size
Elemis Supferfood Day Cream 20 ml, travel size
GROWN ALCHEMIST Hand Cream Vanilla, Orange Peel 20 ml, travel size
GROWN ALCHEMIST Matte Balancing Moisturizer: Açaí Berry, Borago 12ml, travel size
Hugo Boss The Scent for Him Shower Gel 50ml Travel Size
ISSEY MIYAKE Surprise – L'eau D'Issey Pour Homme shower gel 75 ml or Fusion D'Issey shower gel 50 ml, travel size
L:A Bruket Body Lotion Sage/Rosemary/Lavender 55ml Travel Size
Maison Francis Kurkdjian Baccarat Rouge 540 Eau de Parfum 5ml Travel Size
Marvis Aquatic Mint Toothpaste 25ml Travel Size
MDO Collagen Boost Sheet Mask 1pc, original size
Murad Hydration AHA/BHA Exfoliating Cleanser 60ml Travel Size
Narciso Rodriguez For Him Bleu Noir Aftershave Balm 50ml, travel size
Paco Rabanne Invictus Bar Soap 100g Travel Size
Pai Skincare Carbon Star Detoxifying Overnight Face Oil 10ml Travel Size
Percy Nobleman Repairing Eye Cream With Caffeine Eye Cream 15ml, Original Size
RITUALS Homme 24h Anti-Perspirant Spray 200 ml, original size
SEB MAN The Multitasker – 3in1 Hair, Beard & Body Wash with Guarana 50 ml, travel size
SLOWDAY Surprise – hand soap from the Awake, Balance or Relax line 250 ml, original size
Trussardi Riflesso Blue Vibe Eau de Toilette 10ml, travel size
VERSACE Eros shower gel 100 ml, travel size