BEAUTY BAY Christmas Boxes 2023 – Available now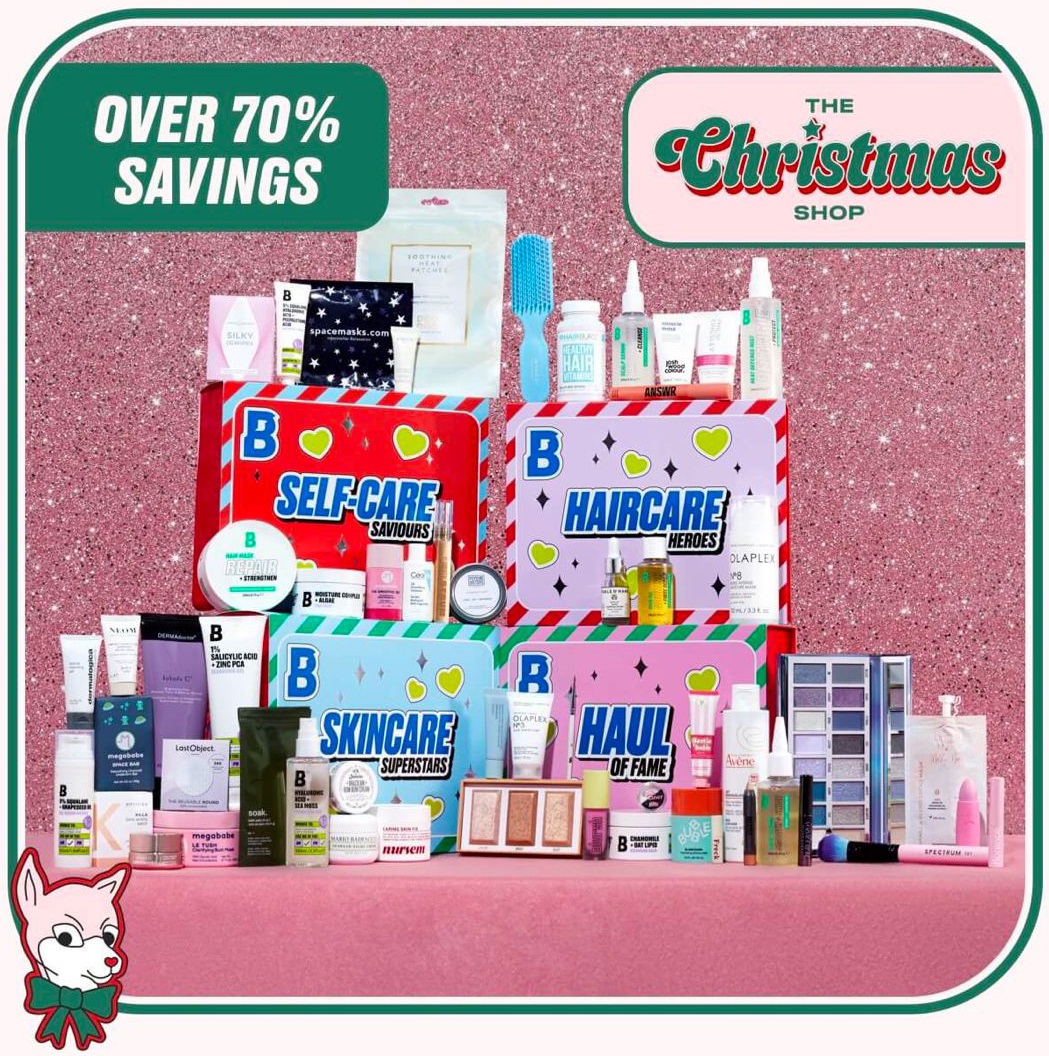 UPD. Available now
BEAUTY BAY has announced four BEAUTY BAY Christmas Boxes 2023 with over 70% savings.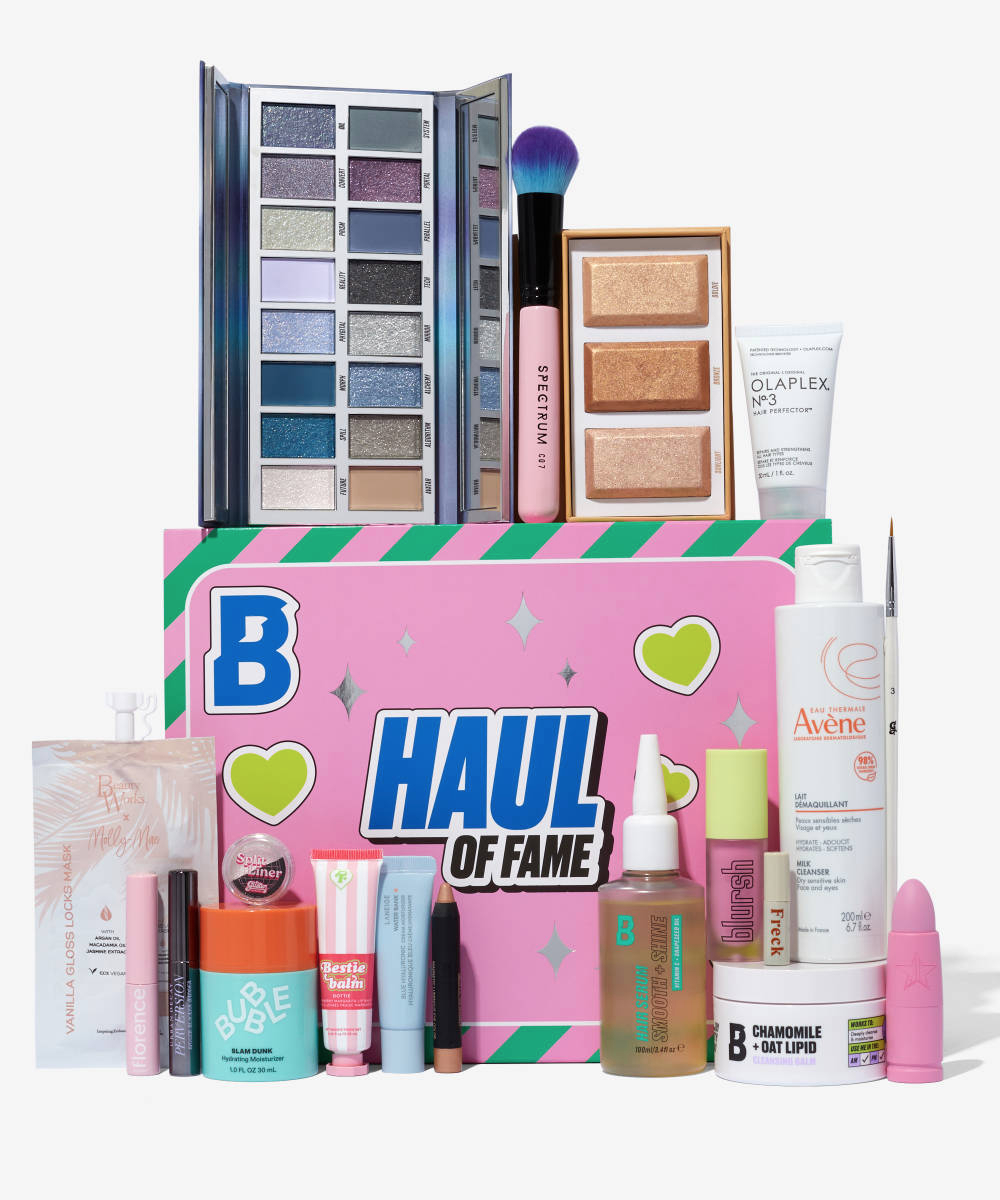 BEAUTY BAY Haul Of Fame (worth £206.73). Priced at £60.
What's inside:
BY BEAUTY BAY Chamomile + Oat Lipid Cleansing Balm 90ml
BY BEAUTY BAY Metamorphic 16 Pan Colour Palette
BY BEAUTY BAY Highlighter Palette in Golden Glow
BY BEAUTY BAY Smooth + Shine Hair Serum 100ml
florence by mills Up A Notch Mascara Deluxe Sample 4.1ml
OLAPLEX No.3 Hair Perfector 30ml
Bubble Skincare Slam Dunk Hydrating Moisturizer Créme 30ml
Nudestix Mini Luminous Eye Color Pencil in Praia 2.5g
Jeffree Star Cosmetics Velvet Trap Lipstick Nudist Colony 4g
Glisten Cosmetics Split Liner in Coke Float
Glisten Cosmetics Liner Brush 3
Freck Og The Original Freckle 1.35ml
Laneige Water Bank Blue Hyaluronic Cream Moisturiser 10ml
Spectrum C07 Multi Complexion Brush
Trixie Cosmetics Bestie Balm Lip Balm in Dottie (Strawberry Margarita) 13.35ml
Made By Mitchell Lonely Hearts Club Blursh Liquid Blusher Cold Heart 6ml
Beauty Works X Molly-Mae Gloss Locks Mask 30ml
Avene Gentle Milk Cleanser 200ml
Urban Decay Perversion Mascara 3ml
Shop here: beautybay.com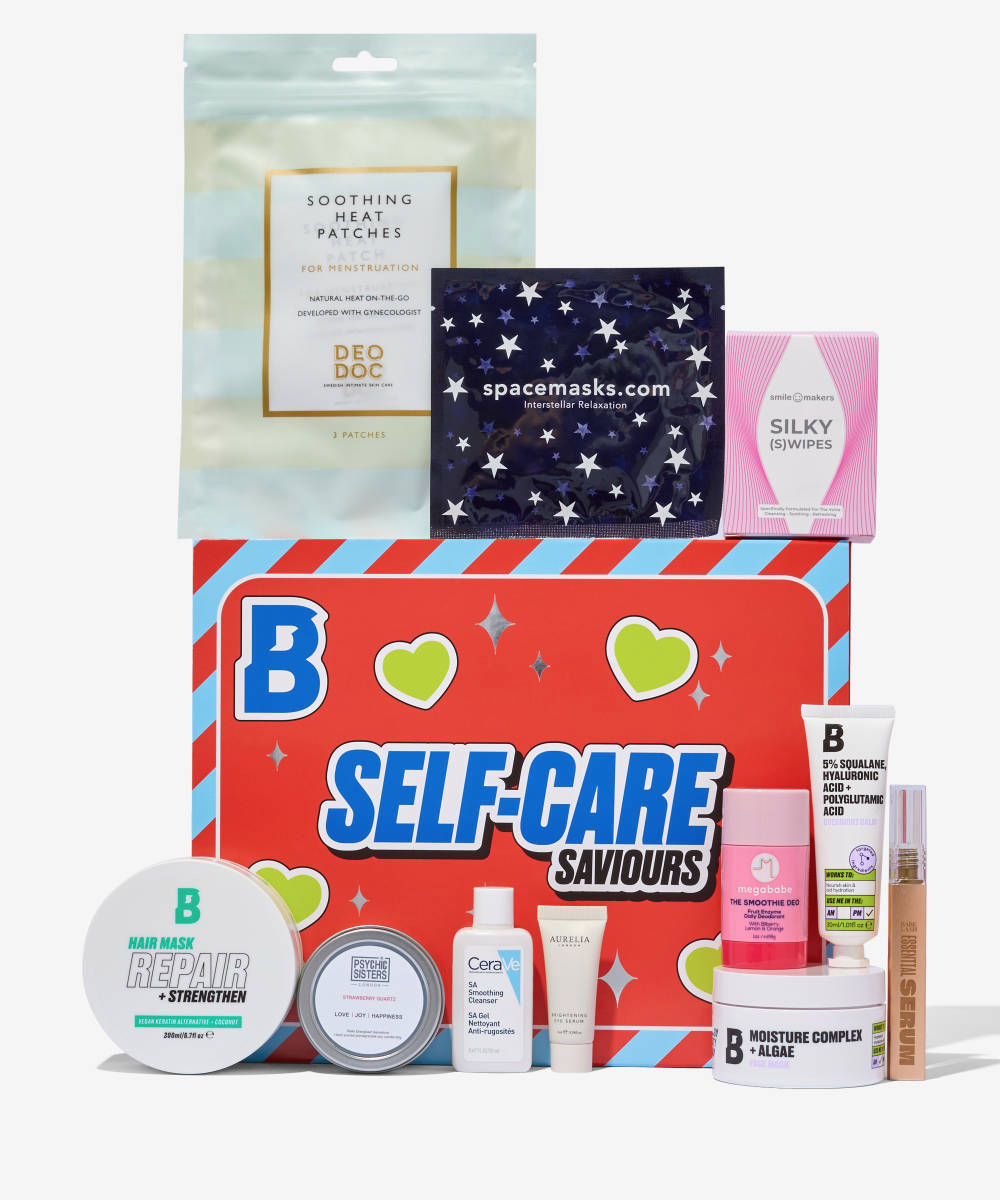 BEAUTY BAY Self-care Saviours (worth £142.70). Priced at £40.
What's inside:
By BEAUTY BAY Moisture Complex + Algae Face Mask 90ml
By BEAUTY BAY 5% Squalane, Hyaluronic Acid + Polyglutamic Acid Overnight Balm 30ml
By BEAUTY BAY Repair + Strengthen Hair Mask 200ml
Megababe The Smoothie Deo Fruit Enzyme Daily Deodorant 28g
Deodoc Menstrual Heat Patches Pack Of 3
Spacemasks Spacemasks Single Mask
Babe Original Babe Lash Essential Serum 2ml
Aurelia Brightening Eye Serum 7ml
Psychic Sisters Strawberry Quartz Tin Candle 100g
CeraVe Sa Smoothing Cleanser 20ml
Smile Makers Silky Swipes 12 Pack
Shop here: beautybay.com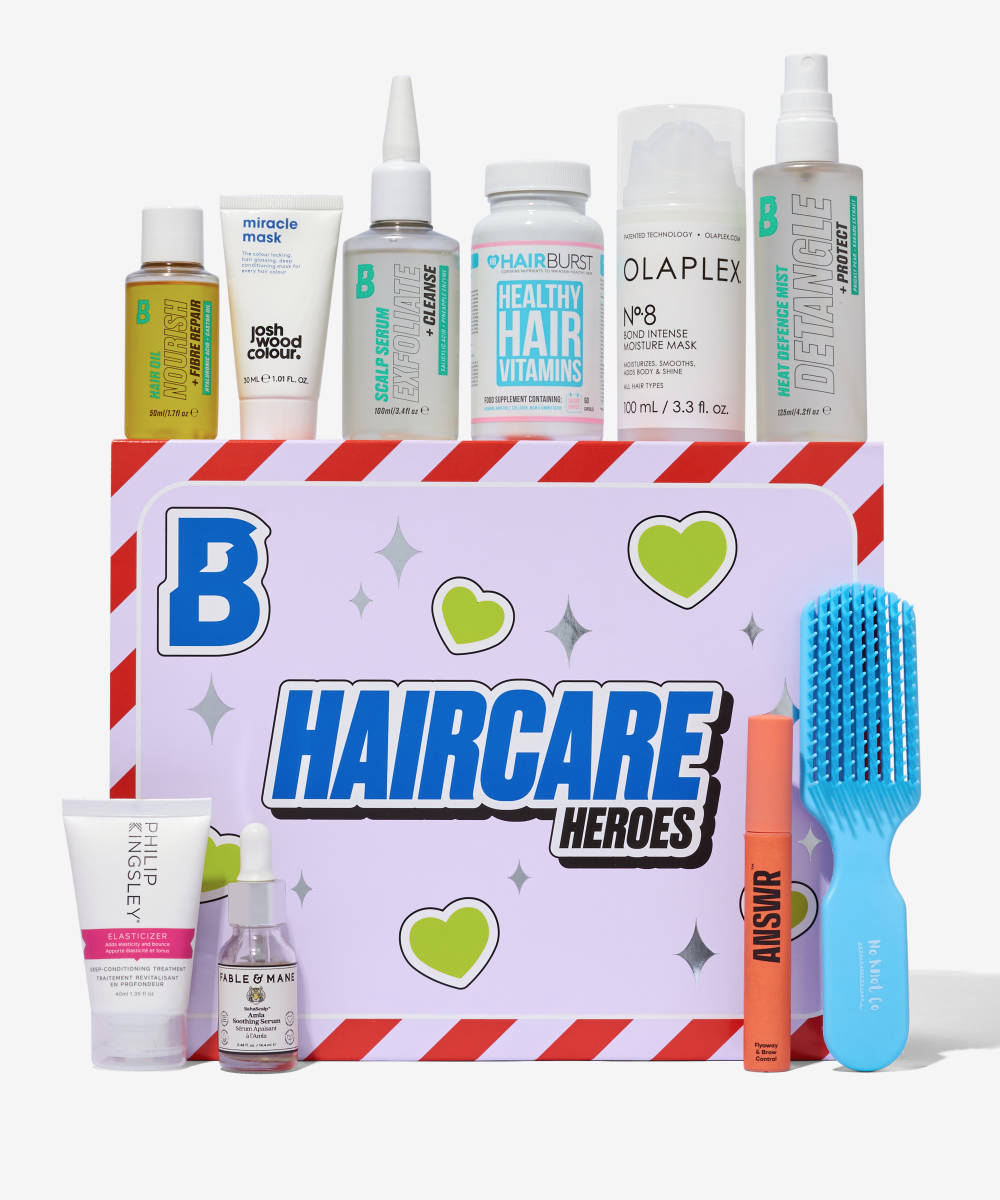 BEAUTY BAY Haircare Heroes (worth £142.90). Priced at £40.
What's inside:
By BEAUTY BAY Detangle + Protect Heat Defence Mist 125ml
By BEAUTY BAY Nourish + Fibre Repair Hair Oil 50ml
By BEAUTY BAY Exfoliate + Cleanse Scalp Serum 100ml
Fable & Mane Sahascalp™ Amla Soothing Serum 14.4ml
Philip Kingsley Elasticizer Deep-Conditioning Treatment 40ml
No Knot Co Mini Detangler Brush Blue
OLAPLEX No.8 Bond Intense Moisture Mask 100ml
Hairburst Healthy Hair Vitamins 60 Capsules
Josh Wood Colour Miracle Mask 30ml
ANSWR Flyaway And Brow Control Stick 7ml
Shop here: beautybay.com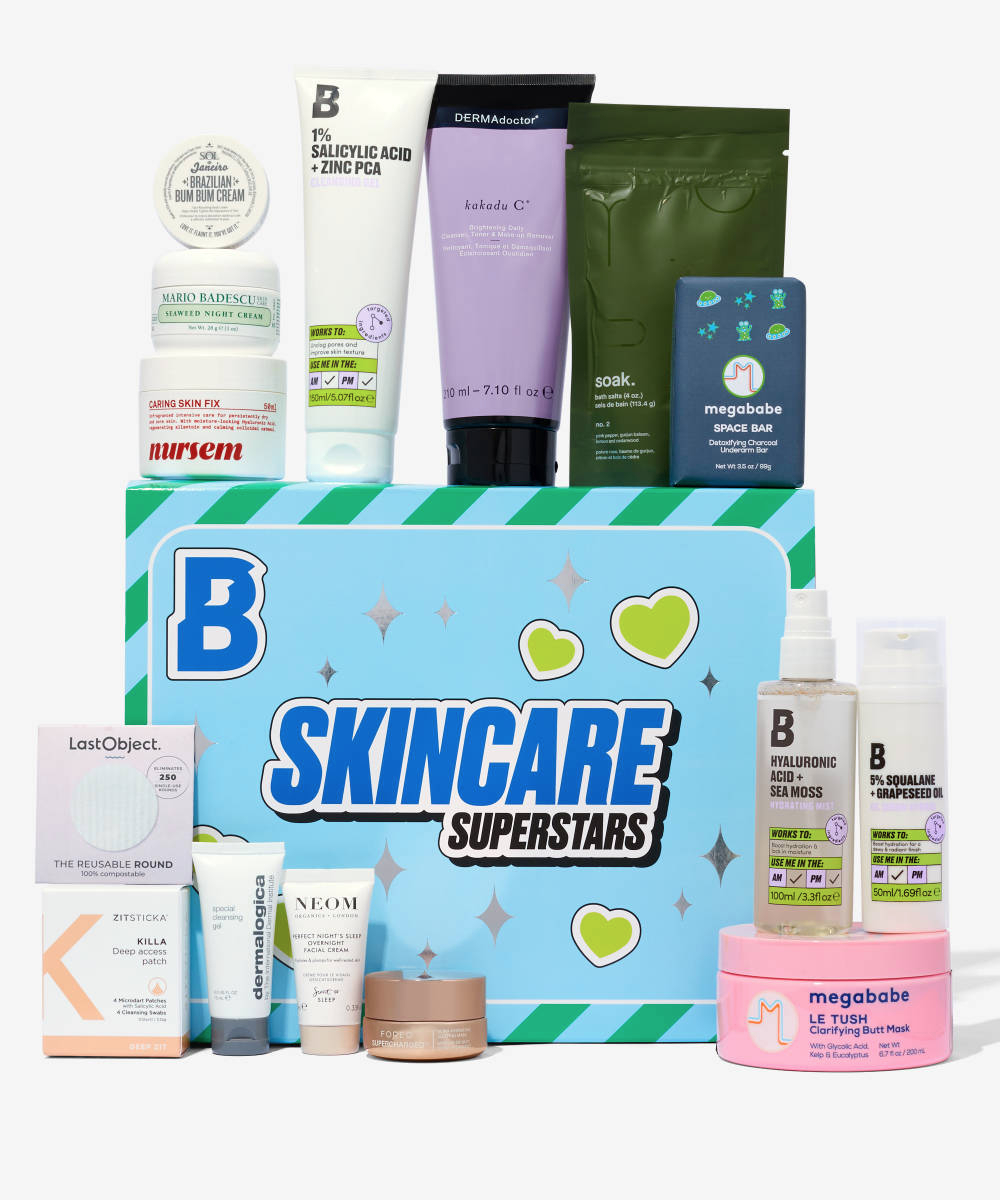 BEAUTY BAY Skincare Superstars (worth £192.49). Priced at £50.
What's inside:
By BEAUTY BAY 5% Squalane + Grapeseed Oil Serum Hybrid 50ml
By BEAUTY BAY Hyaluronic Acid + Sea Moss Hydrating Face Mist 100ml
By BEAUTY BAY 1% Salicylic Acid + Zinc PCA Cleansing Gel 150ml
Megababe Le Tush Clarifying Butt Mask 200ml
Megababe Space Bar Detoxifying Charcoal Underarm Bar 99g
LastObject Lastround Single 1 x PAD
Nursem Caring Skin Fix 50 ml
Mario Badescu Seaweed Night Cream 28g
Dermalogica Special Cleansing Gel 15ml
Sol De Janeiro Brazilian Bum Bum Cream 25ml
Zitsticka Killa Spot Clarifying Patch 4 Pack
NEOM Perfect Night's Sleep Overnight Facial Cream 10ml
DERMAdoctor Kakadu C Cleanser 210ml
Maude Soak Nourishing Mineral Bath Salts 4oz
Foreo Supercharged Ultra-Hydrating Sleeping Mask 15ml
Shop here: beautybay.com